MADHUBANI PAINTING WORKSHOP
Price : $40

Date : Oct 13

Time : 1:30 - 3 pm,

Age : 8+ years
Madhubani or Mithila : Mithila/Madhubani art--A traditional folk artform of Northern India which has been transferred from mothers to daughters form generation to generation but has gained recognition only in the last few decades. The paintings are traditionally based on mythological stories and pastoral symbols. Even though this art is centuries old, it has preserved its original style and contents in its native land of Mithila. The painting style is well known for its vibrant colors, unique borders, symbolism and mythological stories.
About the Instructor :
Sunanda Sahay has been painting in Mithila/Madhubani style, a traditional artform of North India, for the last 20 years and has held exhibitions, workshops, artist-in-residency, talks interactive workshops at several museums(PEM, MFA, Danforth, Fitchburg art, Boston Children etc), schools, colleges, libraries and various other community places. She is the recipient of the MCC Finalist award(2010), Apprenticeship award(2014, 2016) and has been the part of various juried shows..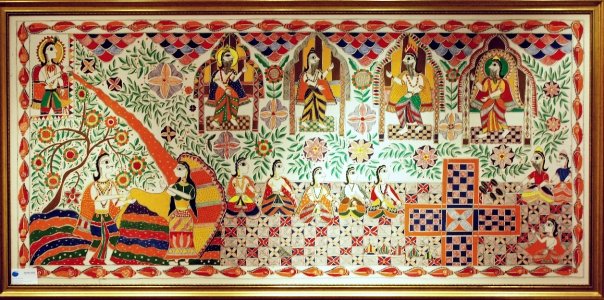 Payment and Missed Class Policy:
Training requires consistency in order to achieve the most benefit. However, we understand that students may occasionally need to miss a class. Use the following guidelines to ensure that you get the most out of your classes at The Academy of Creative Arts.
Your fees are due on or before the first class in a month

Payment may be made by cash, check or credit card

If you pay for several months in advance and cannot complete all months, we will refund months not used when notice is received before the beginning of the month

If you or your child plan to miss a class - 48 hour advance notice is required - so another student can be accommodated - if the student does not provide 48 hour notice, student can coordinate the make-up class with the instructor.

Your monthly fee pays for your space in class for the month. It is your responsibility to make up classes if you or your child miss the class.

One makeup class will be offered each month. During any month that you are enrolled, you may make up a class by attending any other appropriate session (please coordinate with the instructor for scheduling the make up class). Make up classes should be completed within 60 days of missing the class. Fees for missed classes are not refundable.

If you are having trouble scheduling a make up class, please let us know and we will try to accommodate you

Class timings and schedule are subject to change
We wish you a wonderful learning experience - these policies are required so that we can be respectful of the instructors time and commitment.